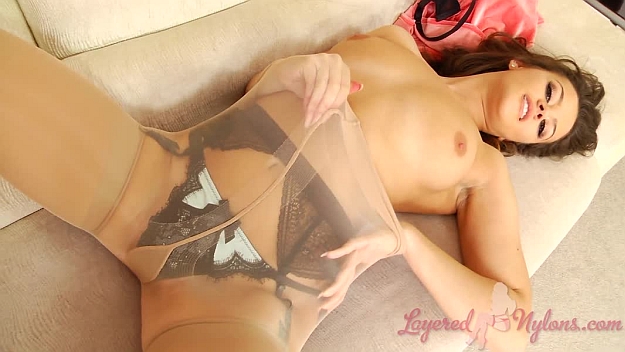 Pretty brunette Brook teases in her flared pink dress, lifting up it up and swirling the satin material round her thighs in beige nylon hosiery.
Reclining on the sofa, Brook pulls down the neckline of the stretchy material to give a teasing glimpse of the bra underneath. Then she turns to lay on her front with the dress pulled up, revealing the sheer nylon pantyhose layered over black suspenders and tan stockings.
Brook kneels and lifts the dress, revealing the 'whale tail' of her thong under the layer of her nylon tights that cling to her firm buttocks. She caresses the shiny surface of her pantyhose as she sways her ass, and the black suspenders stretch around the curve of her firm buttocks and pull on the tops of her stockings.
Brook strips off the dress revealing the pale blue and black lace designer bra that holds her boobs firmly in place. She hooks her thumbs under the waist of her pantyhose and pulls the nylon up and makes the gusset stretch tight around the crotch of her matching lace pantie thong.
Brook strips off the bra and cups her peachy breasts in her hands and pushes them together, gently rubbing her forearms over the soft pink nipples as she teases in her lingerie and nylon layers.
This post has already been read 123 times!