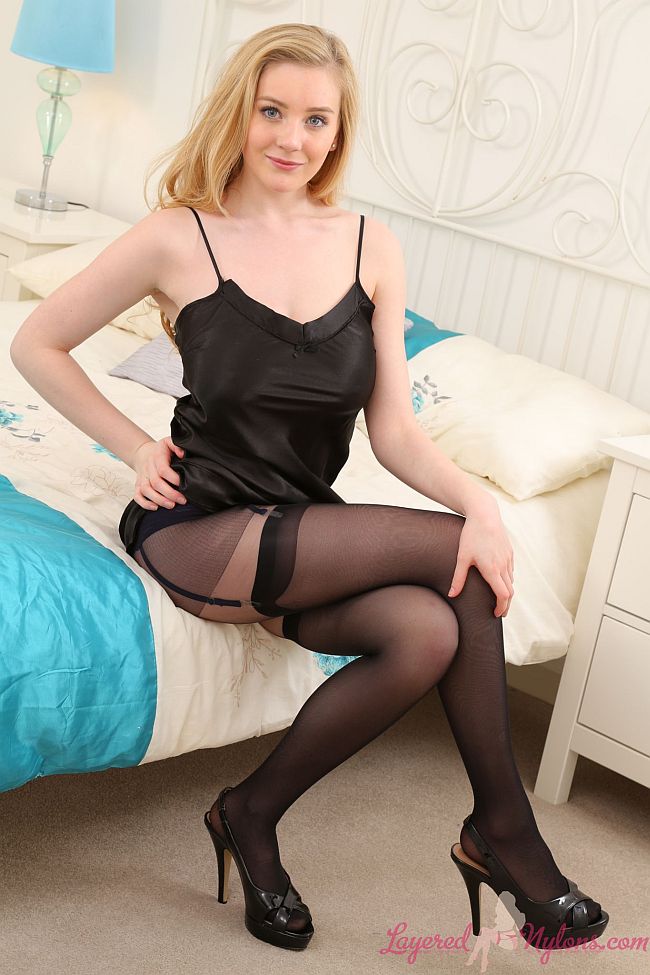 Blonde babe Charlie is ready for bed, but not before she does a striptease in her slinky black dressing gown, lingerie, pantyhose and stockings in her latest photo-set at Layered-Nylons.
Charlie lay on the bed and pulled up the edge of her black satin gown, revealing black suspenders attached to stockings, under a fine layer of sheer nylon pantyhose.
Her long blonde hair curled around her shoulders as she knelt and untied the sash of her gown, then let the slinky garment slide down her arms to reveal a black satin slip that clung to her bosom. She leaned forward and rested on all fours, her slip lifting over her ass sheathed in black nylon, under which her suspenders pulled taut on the tops of her stockings.
Charlie slipped the thin straps of her slip over her shoulders and it fall down her front, uncovering her gorgeous boobs and their soft milky skin and pink nipples. She lowered the slip down her legs and revealed more of her black suspender-belt and the lacy full back panties around her hips under the layer of her sheer nylon tights.
Charlie lay back on the bed and lifted up her long legs, slipping off her heels and balancing them on the balls of her feet, before taking them off to show the soles encased in layers of  black nylon. She then knelt and pulled the waist of her pantyhose right up her belly, stretching the nylon over her tits as she posed topless in her suspenders and stockings.
This post has already been read 241 times!