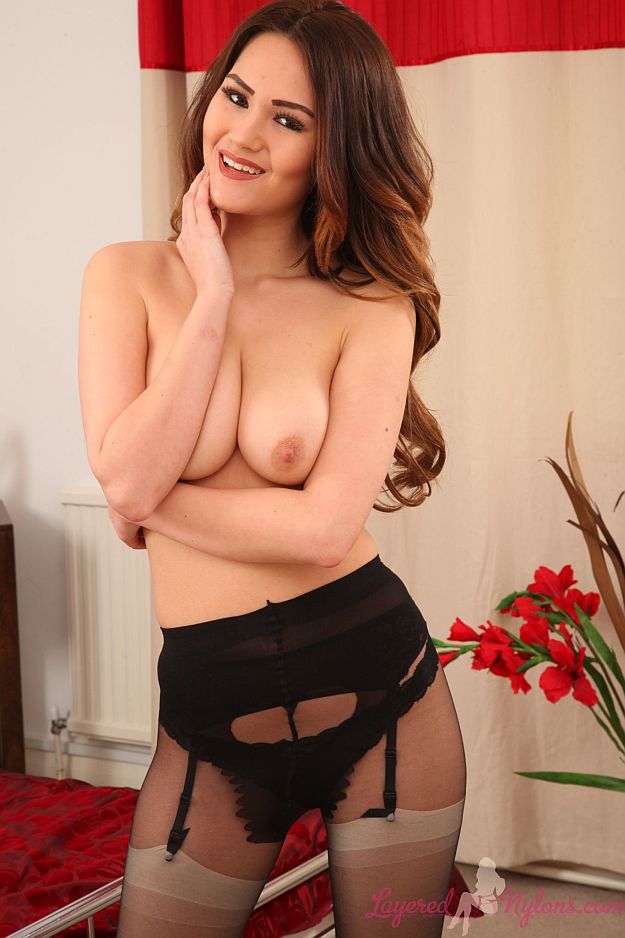 Daisy Rose looks so sexy as she poses in a long and slinky evening dress that clings to her figure, legs and ankles at the start of this photo-set. If you look carefully you'll see the little bumps of her suspenders around the tops of her thighs under the thin material of the dress.
You won't have to wait long to actually see what's under her dress as she reclines on the bed and draws back the folds above her thighs, revealing suspenders attached to white stockings tops, under a layer of sheer nylon pantyhose.
Daisy pulls open the front of her halter-neck dress to give a tantalizing glimpse of her cleavage and the black bra underneath. Then stands to lift the dress around her waist and reveal the black pantie thong that clings to the cheeks of her ass under the layer of her sheer nylon tights.
Daisy strips off the dress and slips the straps of her bra over her shoulders as she slowly teases out of it to reveal the soft flesh of her beautiful all natural breasts. Standing in her designer stiletto heels, she finishes by posing topless in her lingerie and layers of nylon hosiery.
This post has already been read 82 times!