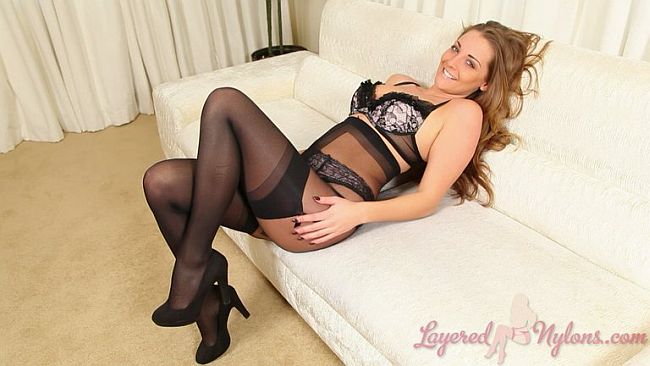 'Hi guys, I'm Daisy. Here's my sexy striptease,' says our fabulous brunette as she stands and poses in her red top, short black skirt, her legs in hose and heels.
Daisy is everything you'd expect from a sexy girl who knows how to strike a pose, lift her short skirt and tease in the most alluring way to elicit your appreciation.
Quickly stripping off her skirt, she sits and with her legs crossed and rubs them together so they make the swishing sound of nylon on nylon. Uncrossing her legs, she opens them up to give a view of her lacy panties behind the oval gusset of her sheer pantyhose stretched over her crotch.
Stripping the red top over her head reveals she is wearing a matching lace bra and suspender belt, then laying back she lifts up her shapely legs and caresses her ass sheathed in a tight layer of black nylon.
Daisy kneels to show the 'whale tail' of her black panties and her suspenders stretching around the curve of her thighs, straining on the tops of her nylon stockings under her sheer pantyhose.
Daisy looks back over her shoulder with a saucy smile as she expertly releases the catch of her bra and strips it away to uncover her lovely all natural breasts. Shaking her head from side to side, her long lustrous hair sweeps over her naked back and shoulders as she poses in various positions in her layers of underwear and nylon hosiery.
This post has already been read 143 times!