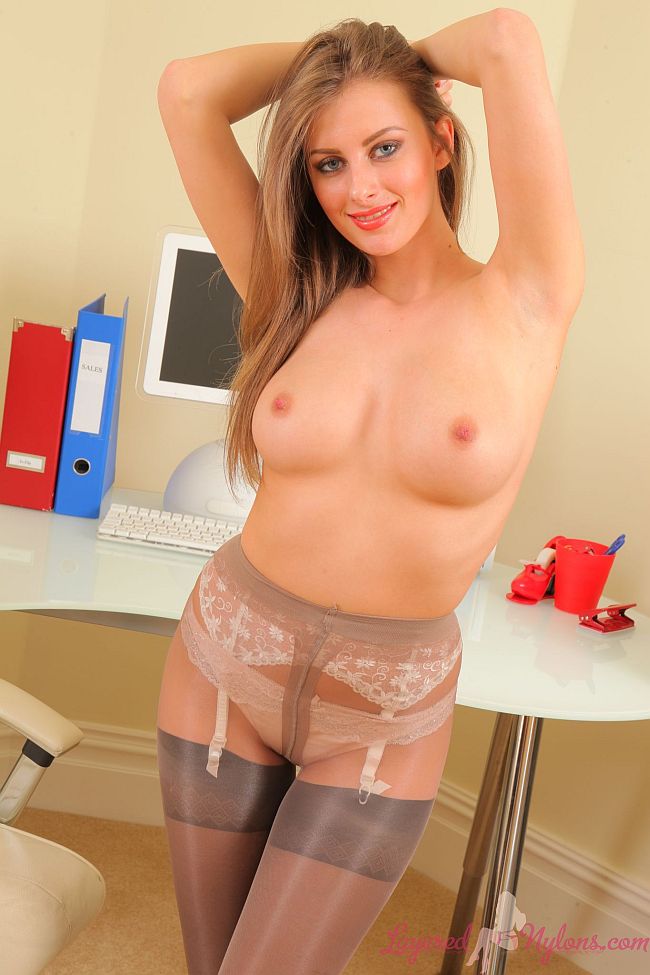 Secretary Danielle turned and slowly pulled up the back of her short leather skirt, revealing beige, sheer nylon pantyhose layered over white suspenders and grey stockings. The oval of her pantyhose gusset stretched under the cheeks of her ass bands of light shimmered across the surface of her shiny pantyhose and up her legs.
Stripping off her blouse revealed a satin, champagne colored bra, decorated with sparkling diamante gemstones. She slipped the straps of the bra over her shoulders and unhooked the catch at the back, stripping it away to reveal her all natural breasts and pink erect nipples.
Danielle hooked her thumbs into the waist of her skirt and slid it over her thighs and down her legs, revealing her gorgeous shaped ass, sheathed in silky pantyhose layered over her lace suspender belt and pantie thong.
Sitting in the office chair she dangled her heels from her toes, then slipped them off and stood posing topless in her lacy suspenders, panties and layers of nylon hosiery.
This post has already been read 337 times!