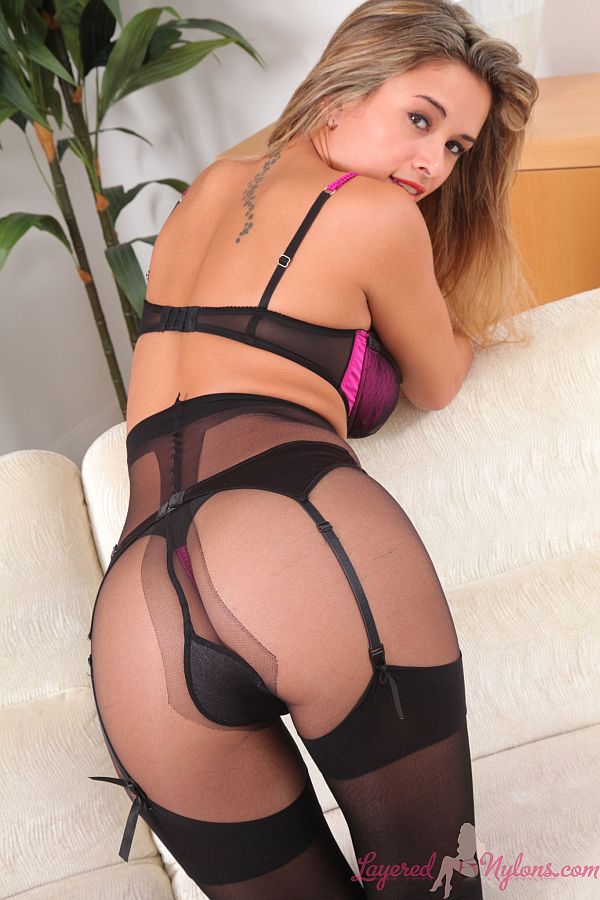 Danni smiled warmly as she posed in her black, sheer lace top, under which she was wearing a pretty pink bra with black lace trim. She looked over her shoulder and her eyes sparkled with a hint of naughtiness, one hand resting around the waist of her faux leather skirt that clung to her ass, her shapely legs dressed in black hosiery and feet in high heels.
Danni stripped off her skirt, revealing a black, sheer nylon pantyhose, layered over a pink pantie thong that matched her bra, black suspender-belt and stockings. She pulled the thin black straps of her lacy top over her shoulders and down her arms, stripping it away to fully uncover her pretty lingerie.
Danni knelt on the sofa and rested her arms over the back, offering a perfect view of her shapely ass, sheathed in it's layer of sheer nylon. The 'whale tail' of her panties narrowed to a thin strip that slipped between the cleft of her rounded buttocks; the curve of her ass bounded by black suspenders that pulled taut and strained on the tops of her sexy stockings.
Danni hooked her thumbs under the pink straps of her bra and slipped them over her shoulders, then pulled down the cups at the front to give a teasing glimpse of her cleavage. She stripped the bra away to uncover her peachy, all natural breasts, that looked so smooth due to the warm tone of her skin. Then she stood and posed topless as she pulled up the waist of her pantyhose so they stretched tight around the crotch of her pretty, pink panties.
This post has already been read 280 times!