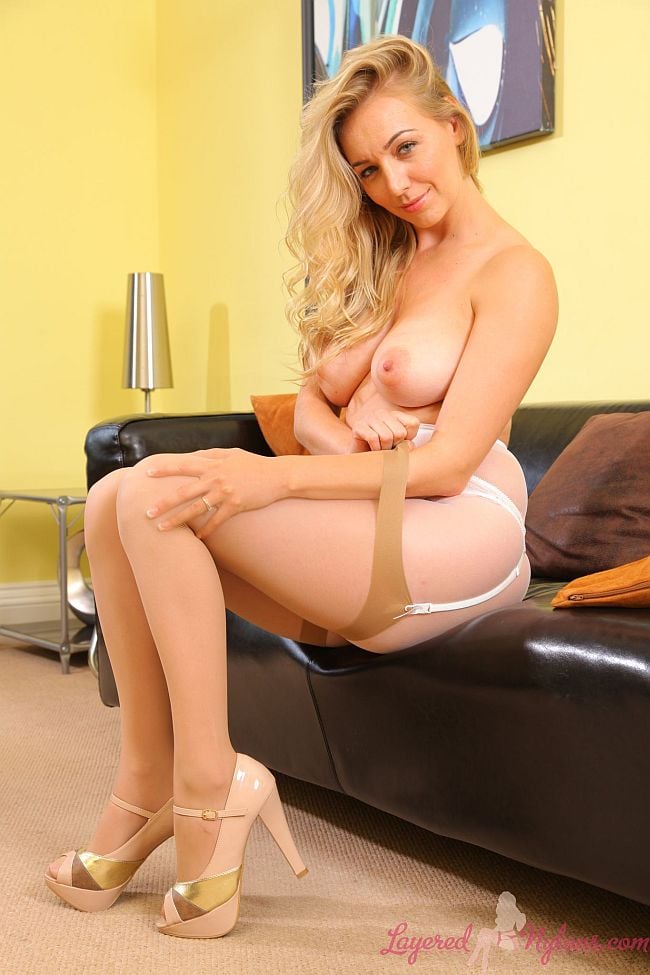 Hayley-Marie is certain to capture the attention when she goes out to party, as the outlines of her suspenders can clearly be seen through the material of her tight fitting pink dress. Just the sort of thing that gets guys imaginations racing as they watch her dancing in her sexy outfit.
Wearing a tasteful layer of tan nylon stockings and white pantyhose that blend together very well against her legs, a nice pair of pink and gold, open-toe heels complement the layered hosiery.
Hayley-Marie treats us to a view of what is under her dress, kneeling on the floor and presenting her fabulous ass sheathed in sheer nylon hose, her white suspenders stretching around her thighs and pulling on the tops of her tan stockings.
Squatting down on her sexy heels, she opens her legs and gives us a frontal view of her pink panties under the sheer nylon oval of the gusset stretched over her pantie crotch. It's so sexy, seeing under her dress and viewing her naughty panties in that way, all nicely framed by the beige-tan of her nylon stockings around her shapely thighs.
This post has already been read 140 times!