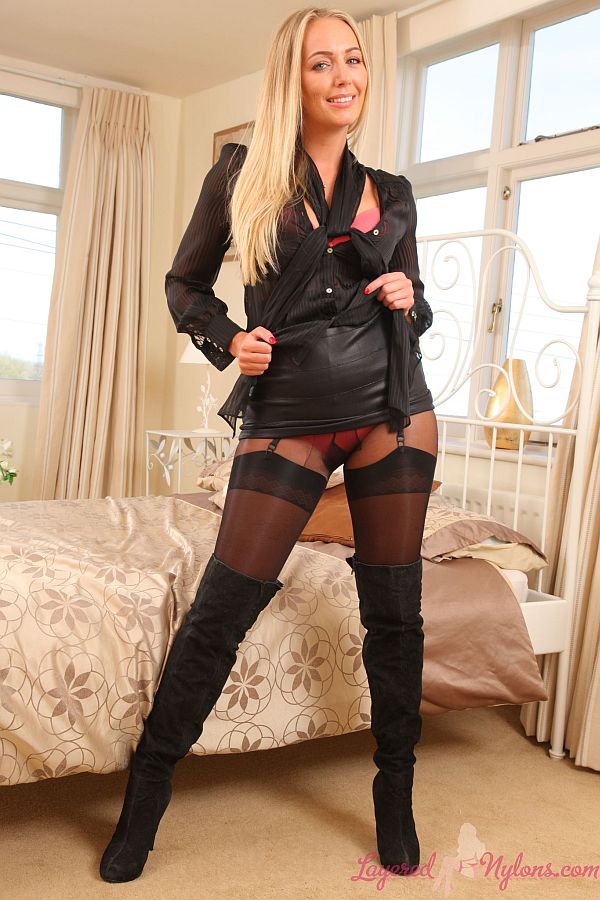 Blonde babe Hayley-Marie looks stunning in the all black outfit she's wearing in her latest photo-set here at Layered-Nylons.
A seductive sheer blouse through which you can see her red-satin and black lace bra, a tight fitting short skirt, black hose on her legs and some sexy suede knee-high boots, she looks so damn hot!
Hayley-Marie stands and looks back over her shoulder with a naughty glint in her eyes, the outlines of her suspenders appearing as bumps under the tight-fitting material of her skirt that covered her shapely ass.
Laying on the bed, she pulls that skirt right back around her hips and opens her legs, revealing pink satin panties, black suspenders and stockings under a layer of sheer nylon pantyhose. She lightly brushes her fingers over the front of her pantyhose and around the sheer oval gusset stretched tightly over the crotch of her sexy panties.
Hayley-Marie stands and strips the skirt down her legs, bending slightly as it reaches the floor, her black suspenders stretching around the curve of her thighs and pulling taut on the tops of her sexy stockings tops.
Opening the front of her flimsy, sheer nylon blouse, she reveals more of her lingerie bra supporting her breasts and lifting her cleavage. She strips the blouse away and sitting on the edge of the bed, pushes her hand and forearm down the inside of her pantyhose and feels the flesh of her thigh above her stockings.
Hayley-Marie unzips the sides of her suede boots and takes them off, then stands in her stockinged feet and strips away the bra to unleash her lovely, all natural breasts. Posing topless in her lingerie, she pushes both of her arms deep inside her pantyhose and gently squeezes the cheeks of her fabulous ass.
This post has already been read 370 times!