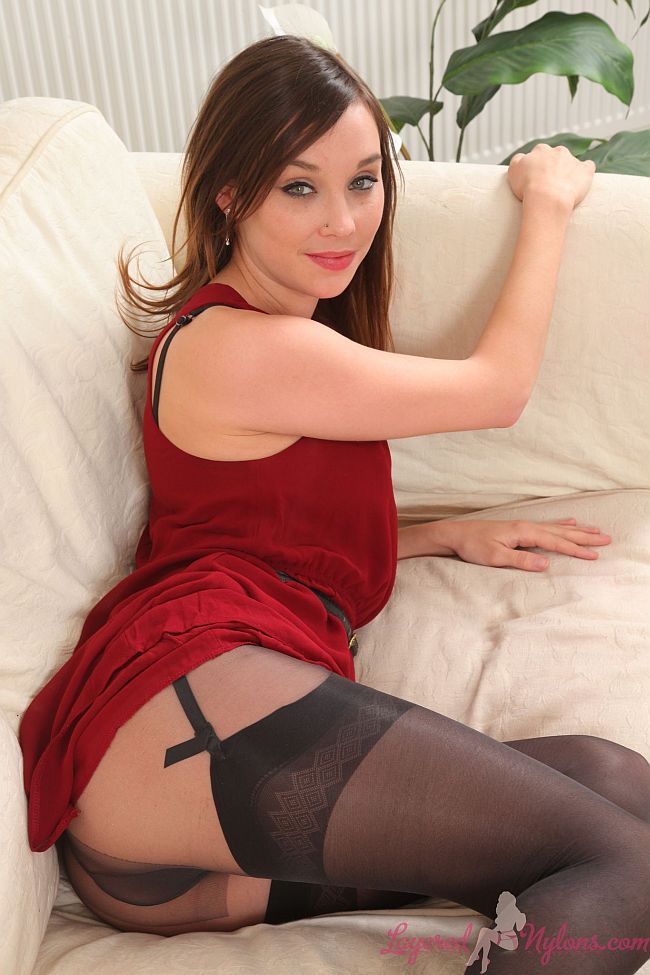 Pretty brunette babe Jo E has an alluring look in her eyes as she flirtatiously lifts her dress to give a glimpse of sexy stocking tops and display her slender legs in black nylon hosiery.
Reclining on the sofa, she lifts up her legs and crosses them at the ankles to give a view of the long, stiletto heels of her shoes. The folds of her dress fall back around her hips, revealing the suspenders stretching around her thighs and pulling on her stockings, under the layer of sheer nylon pantyhose.
Jo unbuckles her heels and dangles them from her toes, then casting them aside she raises her legs and rubs her pretty feet together in their layers of nylon hosiery.
Stripping off her dress reveals the blue lace cups and black straps of her designer bra, which matches the pantie thong under her sheer nylon hose. A designer garter-belt clings tightly around her waist and the black suspenders frame her panties and strain on the tops of her stockings.
Jo stands in her stockinged feet and pushes her hands down the rear of her pantyhose to give her buttocks a nice squeeze. She turns and pulls the waist of her pantyhose up her front, stretching the nylon right over her naked breasts and the gusset tightly against the crotch of her panties.
This post has already been read 268 times!