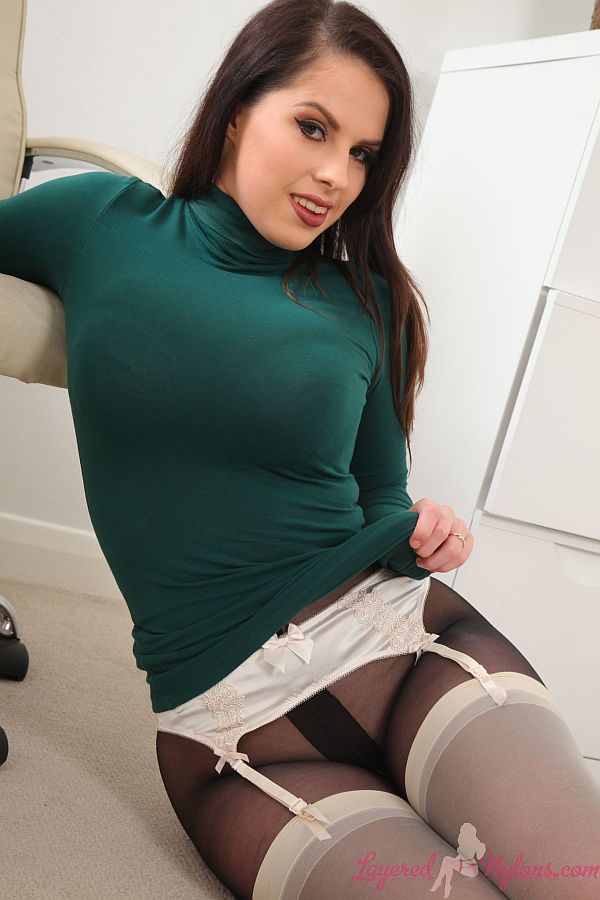 Secretary Jo got up from her chair and stood by the desk, opening the front of her grey jacket to pose with her hands around her hips and show off her shapely figure in a tight-fitting, green dress, that clung to her curves. She turned to open the draw of the filing cabinet, and as she leaned over the hem of the dress lifted slightly and gave a tantalizing glimpse of the tops of her cream colored stockings.
Jo removed her jacket and returned to sit in the swivel chair and crossed her legs as she lifted them onto the desk top. She pulled back the hem of her dress, revealing white suspenders attached to her stockings, layered over black, sheer nylon pantyhose around her thighs. She slipped her hand between the layers of nylon and spread the fingers over the soft nylon covering her thighs and under the tops of her stockings.
Jo got up to stand and pulled the front of her dress up to her waist, revealing that she was sans panties under her sheer, nylon tights. The almost vintage style suspender belt, stretched around her curvaceous hips; the cream color of the material contrasting against the black nylon of the hose that covered her shapely ass and thighs.
Jo pulled the dress even higher to show her huge breasts supported by a flesh colored low-cut bra, uplifting and pressing together the ample flesh of her cleavage. Then having pulled the dress over her head, she slipped the straps of the bra over her shoulders and stripped it away, unleashing the mounds of her all natural titties, which hung heavily down her chest.
Jo took off her shoes and stood in her stockinged feet, then pushing her arm deep inside her pantyhose, she pulled them waist high so the reinforced gusset stretched tight between the soft flesh of her thighs.
This post has already been read 277 times!