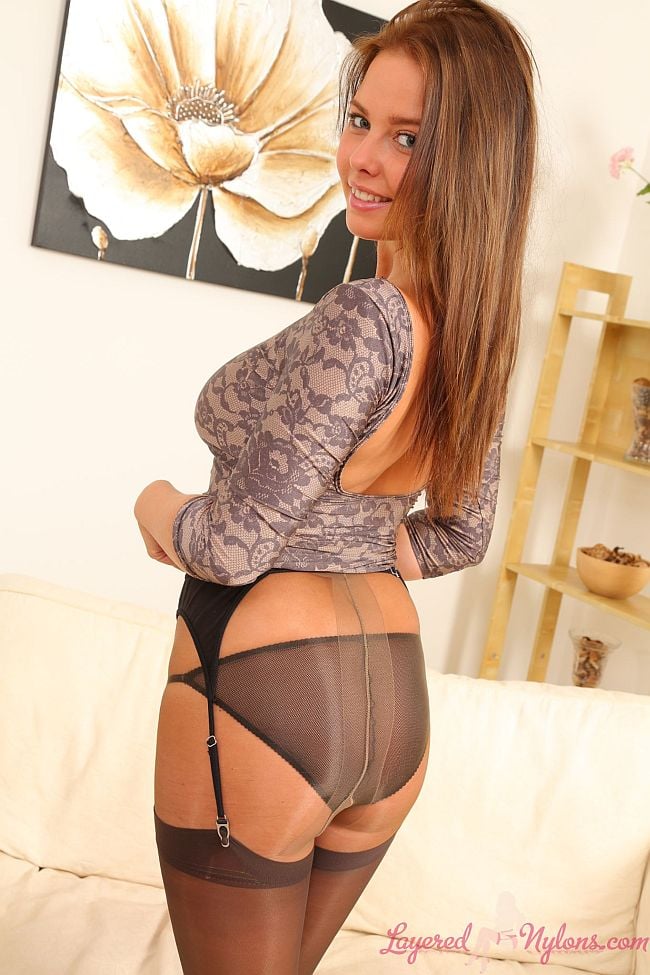 Kay is a stunning brunette model with a fabulous bust and shapely figure which looks amazing as she poses in her tight lacy dress, her legs in layers of nylon hosiery and feet in some sexy heels.
Kay stood and posed, making sure to give us a tantalizing glimpse of her stocking tops, which were clearly seen under the short hemline of her sexy dress.
Kneeling on the sofa, she pulled up the back of her dress, revealing black panties under the layer of her sheer, beige nylon pantyhose. The black suspenders stretched over her hosed thighs, attached by metal suspender clasps to the tops of her dark tan stockings, looked so erotic.
Kay pulled the dress over her head and stripped it off, revealing her gorgeous full-sized breasts that hung from her chest. Diamante gem stones decorated her sexy black suspender-belt and the suspenders framed the tiny black triangle of her pantie thong, under the beige, sheer nylon of her tights.
Kay sat on the sofa and crossed one leg over the other and slipped off her designer stiletto heels. She reclined and posed topless in her lingerie as she lifted her legs to give a view of the soles of her feet in their layers of nylon hosiery.
This post has already been read 286 times!