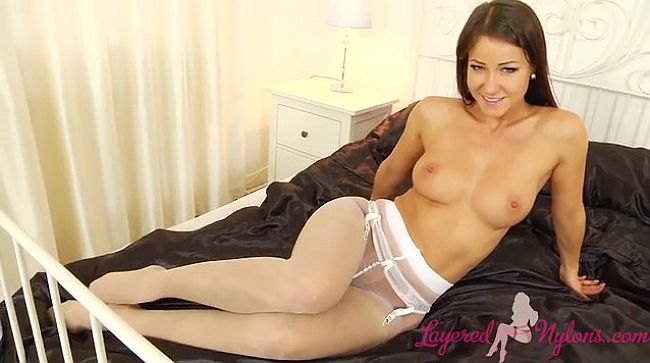 Kristina is a sensual mover, as you'll discover when you see her teasing in her white pantyhose, beige-tan stockings and sexy heels in her latest video.
Kristina stood by the bed, running her hands over the soft material of her printed dress and pulling up the hem to give a quick flash of her pantyhose crotch. Turning, she slowly lifted the dress and wiggled her ass, caressing the cheeks of her ass sheathed in their layer of beige nylon; the white suspenders stretching around her thighs, pulling taut on the tops of her tan, nylon stockings.
Kristina pulled up the front of the dress to show the white suspender belt around her waist, revealing she is sans panties under her white, sheer nylon pantyhose. She lay back on the bed, lifting up her legs and opening them wide to show the opaque white gusset of her hose stretched tight against her naked crotch.
Kristina  got on her knees and presented her shapely ass encased in it's stretchy layer of nylon hosiery. Her hand caressed the round shape of her buttocks, all nicely bounded by the white suspenders and stocking tops. Then she sat up and stripped the dress over her head and her hands reached up to her neck so her forearms brushed against the nipples of her naked, all natural breasts.
Kristina reclined on the black satin sheets, then lifted up her legs to slip off her heels and point her stockinged feet and toes. She smiled warmly as she posed topless and rolled over on the shiny satin sheets, her hands sweeping across her semi-naked body clad in lingerie, and legs in their layers of nylon hosiery.
This post has already been read 243 times!