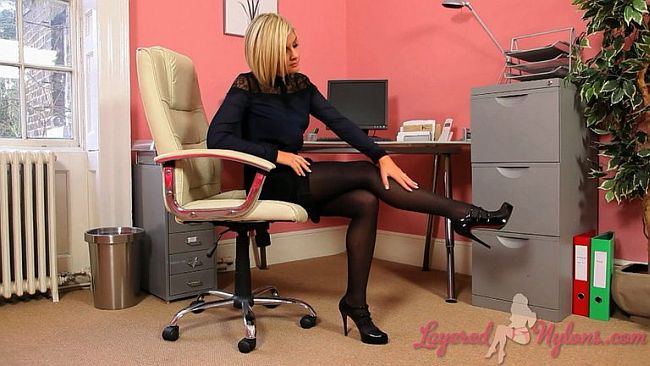 Blonde secretary Naomi dresses very respectable for her job but likes to wear lingerie under her work clothes as it feels sexy and quite naughty, especially as none of her colleagues know about her secret.
Alone in the office and bored with all the paperwork she has to file away, she needs something to take her mind off work, so decides it would be fun to strip off down to her lingerie and nylon hosiery.
Naomi gives a naughty smile as she hikes up her long black skirt and reveals she is wearing black sheer nylon pantyhose, over suspenders and stockings. She playfully adjusts the tops of her stockings and slides her hand between the sexy layers of nylon and caresses her thighs through the soft layer of pantyhose.
Naomi turns and runs her hands over the cheeks of her bum, all nicely bound by the straps of her black suspenders and encased in the clingy nylon of her pantyhose. Unzipping the back of her skirt, she wiggles her ass as the garment slides down her stockinged legs, then steps out of it and poses in her suspenders, stockings and layers of nylon hosiery.
Naomi unbuttons the front of her sexy blouse and strips it off, followed by her dark blue bra and runs her hands over her petite all natural breasts and erect pink nipples. Reclining in her chair and extending her slender legs onto the desk top, she caresses her black nylon hosiery and shows off her expense Louboutin stiletto heels.
This post has already been read 142 times!