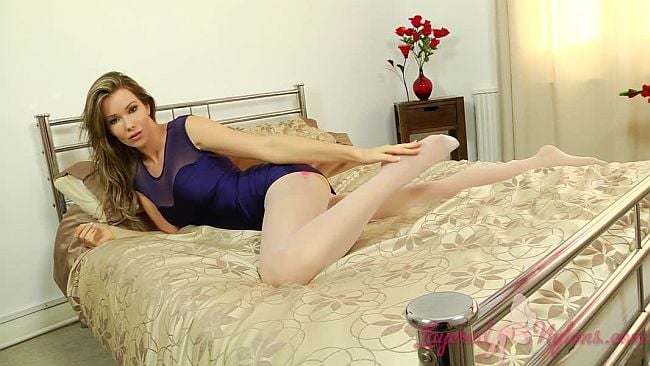 'Hi guys, my name's Nicky and I'm going to do a striptease for you today, I hope you enjoy it,' said our blonde haired model, as she posed in her tight fitting, blue satin dress, pale colored hosiery and black shiny heels.
Nicky flashed a beautiful smile as she turned to show off her body in  her dress, so short it offered us a glimpse of the white gusset of her pantyhose. Her hands followed the curve of her slender frame, caressing the surface of her shiny blue dress and the cheeks of her ass as she gently swayed in her patent leather heels.
Nicky lay on the bed and drew her hands down her long legs as she lifted them high, the bright pink suspenders peeking out from under the edge of her dress that clung to her pantyhosed thighs. She teasingly pulled the dress up and down her thighs, each time revealing and concealing the pink suspenders and panties underneath her sheer nylon hose.
Nicky slipped off her heels and knelt on the bed to pull the dress over her head and stripped it off, revealing her naked all natural breasts. She cupped her boobs in her hands and pushed them together, then swept her forearms over her chest so they brushed against the pink nipples.
Nicky lay back and fondled her boobs while she pushed her arm down the inside of her hose, her hand moving under the stretchy nylon as her fingers explored the tops of her tan stockings.
This post has already been read 286 times!