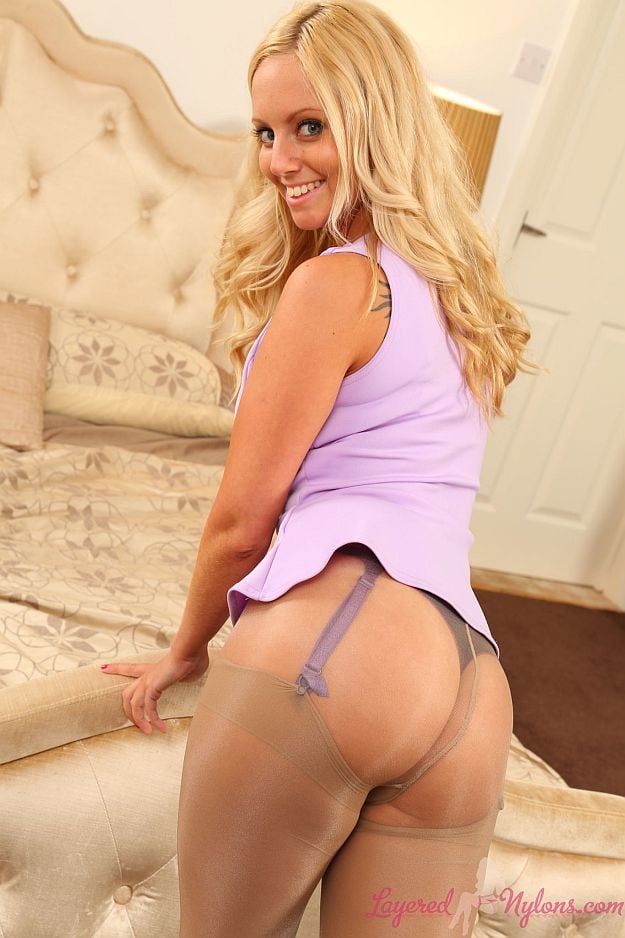 Busty blonde Rachel really enjoyed herself during this photo-session, smiling and posing in her purple sleeveless top, tight black leather skirt and shiny beige-tan hosiery.
Rachel's long blonde hair fell loosely over her shoulders as she turned her head and smiled, her boobs expanding under the front of her top thrust the flesh of her ample cleavage into view.
Looking back over the shoulder, she slowly eased the leather skirt above her thighs, giving a tantalizing glimpse of purple suspenders and beige stockings, under a layer of sheer nylon pantyhose. Her bum sheathed in the nylon of her hose looked so alluring; the tops of her stockings pulled up so high they framed the lower curve of her buttocks.
Rachel stripped off the skirt and top, revealing a purple lace bra that matched the pantie thong under her sheer nylon tights, and a lace decorated, suspender-belt and suspenders attached to her stockings. She posed in her lingerie and hooking her thumbs hooked under the waist of her beige hose she stretched the taut around her hips.
Rachel removed her glamorous, open-toed heels, decorated with glittering diamante, and standing in he stockinged feet she slipped the straps of her bra down her arms. Releasing the catch at the back, she stripped away the bra cups to expose her all natural breasts which hung down her chest
This post has already been read 360 times!