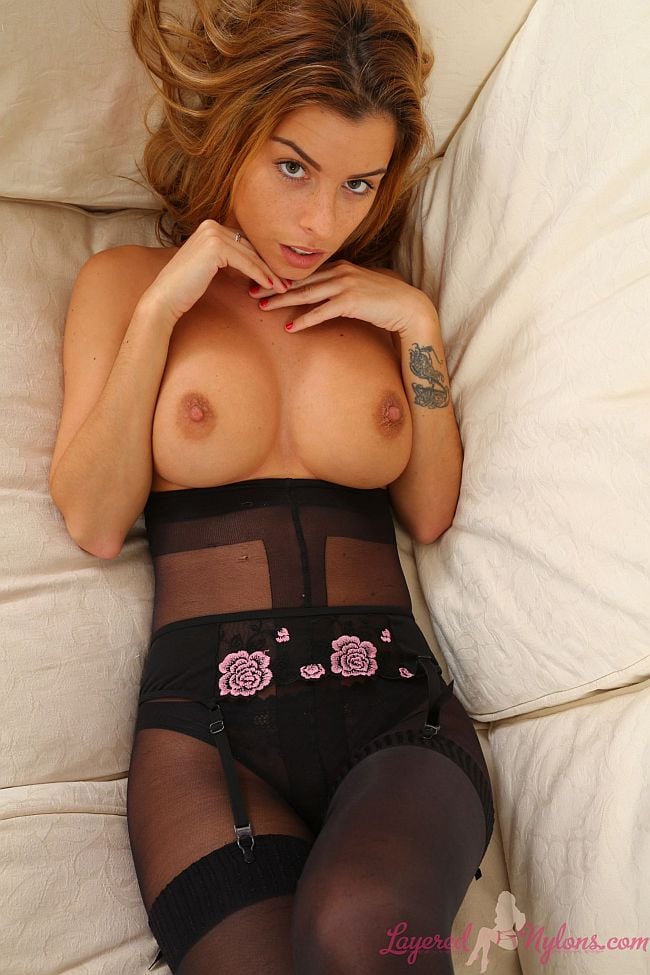 Rae shows her flirtatious side as she poses in her pink, low cut, summer dress that reveals quite a bit of cleavage, her legs in black hosiery and platform heels at the start of this photo set.
Rae turned to kneel on the sofa and lifted her dress up around her hips, revealing black stockings and suspenders layered over sheer nylon pantyhose, under which she was wearing a black pantie thong.
Rae's dress flared around her her thighs as she got up to stand and she lifted it up at the front to show her black suspender belt with its pink rose motif, and the suspenders framing the triangle of her lacy panties attached to her stockings tops.
Rae slipped her dress off her shoulders and teasingly held the material over her chest before finally pulling it down to uncover her ample breasts and their large thick nipples. Unbuckling the belt around her waist, she allowed the dress to slide over her ass and down her stockinged legs to the floor.
Laying back on the sofa, she raised her slender legs and crossed them at the ankles, then used her feet to ease off her heels and balance them on her toes.
Getting up, she stood in her stockinged feet and pulled on the waist of her pantyhose so the nylon stretched right over her gorgeous, all natural breasts.
This post has already been read 138 times!