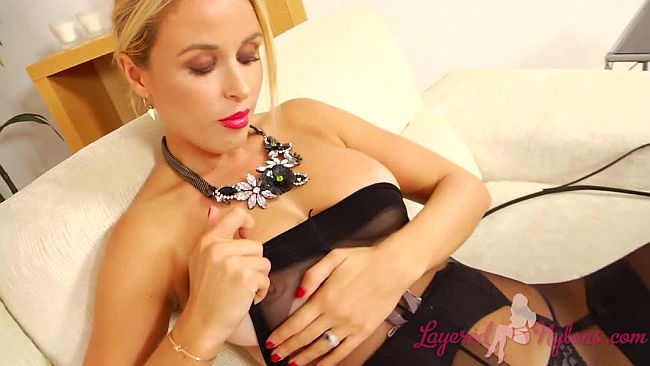 'Hey guys, I hope you enjoy my layered-nylon tease today,' Rosie says as she stands and parts the folds of her long evening dress, revealing layers of black stockings and pantyhose on her legs.
The low plunge neckline of her dress gives a nice view of her cleavage, as she sits and caresses her long legs in black nylon hosiery. Laying back on the sofa, she extends and flexes her legs, then opens them wide to reveal the sexy, black lace pantie thong, under the layer of her sheer nylon pantyhose.
Rosie stands and slips the straps of her black dress over her shoulders and pulls it down at the front to uncover her all natural breasts. She turns and allows the dress to slide down her body, revealing her fabulous ass encased in nylon and bound by the black suspenders and thin black pantie thong around her buttocks.
Rosie turns again to face us and runs her hands over her body, feeling the layers of sexy lingerie against her body and cupping her naked breasts with her hands. She pulls the waist of her pantyhose up and over her naked boobs, and the gusset of her hose stretches tight around the crotch of her lacy pantie thong
Sitting with one leg crossed over the other, she slips off her heels to allows them to swing and dangle from her toes. The shoes drop from her toes onto the floor, then she gets up to stand in her stockinged feet and pose topless in her layers of lingerie and nylon hosiery
This post has already been read 229 times!