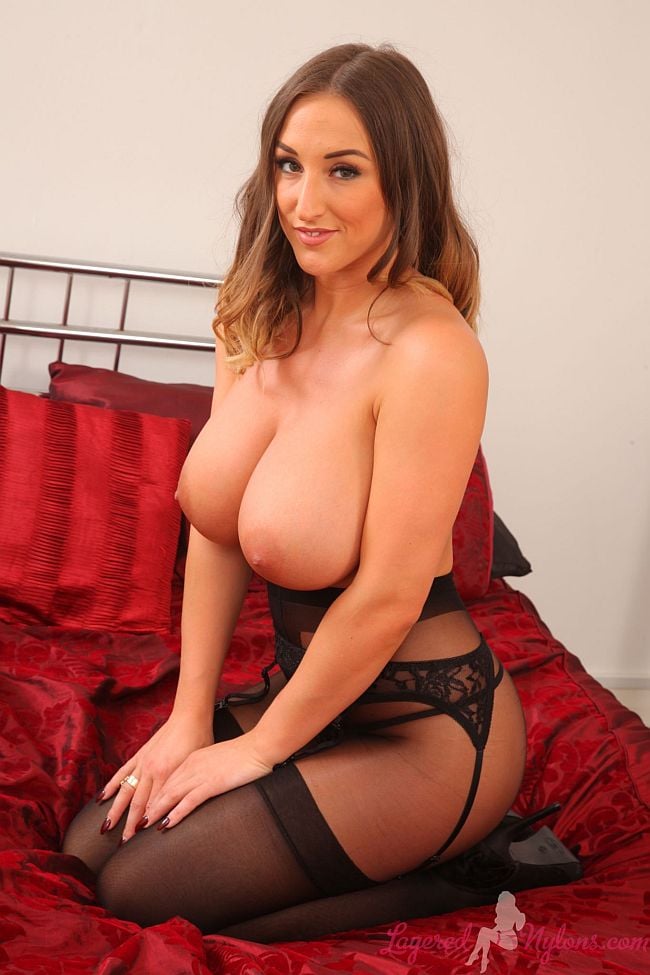 Stacey P looked amazing as she posed standing sideways on, the shape of her large breasts jutting out from under the her tight blouse. Wearing a satin shiny pencil skirt, her suspenders showed through the tight material that clung to the curve of her hips, ass and thighs, her shapely legs in seamed hosiery and stiletto heels.
Stacey wiggled as she eased the hem of her skirt up her thighs to show her black suspenders and stockings layered over black nylon pantyhose. Unzipping the front of the skirt revealed the black lace suspender belt and suspenders framing the triangle of her blue satin pantie thong. She stripped the skirt down her legs, bending over slightly to present her fabulous ass sheathed in black hose and making her suspenders stretch around the curve of her buttocks and pull on her stocking tops.
Stacey unbuttoned the front of her blouse and opened it up, holding it teasingly in place over her large breasts before stripping it away. Her huge boobs hung heavily down her chest and swung with a firm rebound as she posed on the bed pin-up style in her lingerie and nylon hosiery. Then laying back on the bed, she lifted up her legs and crossed them at the ankles to show off her black seamed nylon stockings and stiletto heels.
This post has already been read 135 times!